APC-130 is based on Mimaki's extensive know-how within the cutting market and the company's highly appraised CG-series of cutting machines for the sign industry. Equipped with various functionality required by the apparel and fashion industry APC-130 excels at its ease of use. The plotter displays a high accuracy of plotting and cutting all kinds of design ideas and shapes.
High productivity in one simple step
Pen and contour cutter are installed at the same head thus enabling seamless, streamlined operation by drawing the marks first before contour cutting. After drawing the pen is lifted automatically so that precise cuts are executed without interference.
APC Function
APC(Alternate Plot & Cut Function) developed by Mimaki Engineering(patent pending)
The pen is lowered onto the pattern paper while the cutting blade is lifted.
The pen is lifted automatically while the cutting blade is lowered onto the pattern paper for cutting.
High accuracy of draw and cut lines
By installing the pen and cutter on the same head higher efficiency is achieved and accurate pressure of cutting blade and pen adopted resulting in longer lifetime of pen and cutting blade.

Draw and cut on thick and thin substrates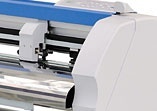 Intelligent functions developed with the user in mind
Perforation along dotted lines
Plotting and cutting only dotted lines enables perforations that can be easily separated by hand with Mimaki's half cut function.
Over cut
Mimaki's over cut function overlaps the start and end points of the substrates thus eliminating cut lines that are not completely cut.
Saving of cutting patterns
7 predefined cutting patterns for often used patterns can be saved and instantly re-loaded thus enabling fast turnaround and high efficiency.
Front loading
Avoid having to move around the machine for setting of heavy roll media. Front loading of substrates enables everyone to conveniently and easily load all kinds of media.
Paper basket
Paper rolls can be easily stored in the paper basket thus keeping produced patterns clean.
*Paper basket can be easily folded up when not in use